Nicki Minaj Sends Cardi B A Sweet $5,000 Gift In Honor Of Baby Kulture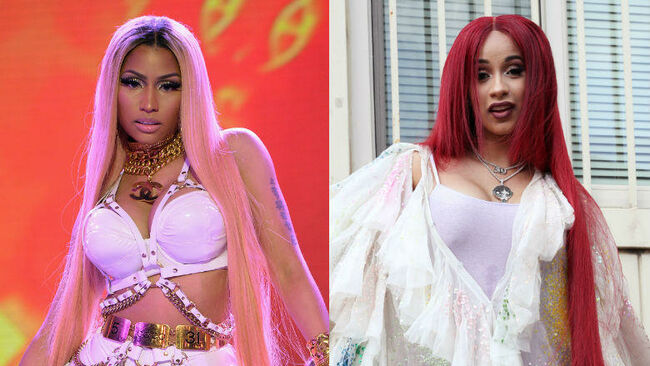 Update: On Thursday afternoon, TMZ reported that Nicki Minaj actually did not purchase anything from Petit Trésor for Cardi B.
Everyone is up in arms about celebrating the birth of Cardi B and Offset's newborn baby, Kulture Kiara Cephus, including once suspected rap nemesis, Nicki Minaj.
Moments after Minaj learned of Cardi's delivery, she sent the rap family a $5,000 gift basket from Los Angeles-based boutique Petit Trésor, which specializes in high-end merchandise for babies. A source close to The Blast revealed that the Young Money rapper instructed staff members to "make it as girly as possible." It reportedly included luxury seasonal clothes, an assortment of dolls and stuffed animals and a sterling silver rattle. It was also prepared with organic pampering items for the new mom. Minaj's basket was shipped to the hip-hop heavyweight's Atlanta residence and should have been delivered by end of Wednesday.
In related news, it appears that Cardi's daughter is already rolling in about $7,000 worth of designer gear from Couture Kids. As per TMZ, the new parents dropped major cash to get the little one a Fendi stroller ($1,600), a Versace changing bag ($600), a Givenchy teddy bear ($195) and much more.
Despite a rocky past, it seems like Minaj and Cardi have put tension aside, particularly after meeting up at the Met Gala in May. "I never was feuding with anybody," Cardi said after the public meet-up. "There was a misunderstanding. She felt a certain type of way about something and I definitely felt a certain type of way about something. Didn't want to ever talk about it in public because I felt like we gonna see each other again and we will talk about it. It's always little issues but the thing is, fans are always gonna make it a big thing. I spoke to her about it [at the Met Gala]. It's just like, see? It was just something that it had to be talked about."